a zine about genital pain and transfem sexual pleasure
by Sophie Macdui
About the Zine
This is a personal zine by me, a trans woman, about my penis. It's about the genital pain I've been going through for the past year: how it happened, why it's happening, and what I'm doing about it. It's also about exploring better sex as a trans woman.
Genital pain is a common problem for trans women on HRT, but it's not something we talk about a lot, there's a lot of shame around it, and our doctors don't have a clue. This means that many trans women, like me, get isolated in our pain and shame. Maybe that's making the pain, and the effect of the pain, even worse.
So this zine is about sharing what happened to me and what I learned. I think that if more of us talk openly about transfem genital pain than we can get happier clits and better sex.
I'm not a trained medical professional, so please take any advice in here with that in mind. I am someone who talks to a lot of trans people about trans healthcare and has been punking transition for a while, with and without medical help. I think that trans info-sharing is often better than what our medical professionals offer. But still, there's your caveat.
This zine is explicit about sex and genitals throughout. There's some ranting about transmisogyny too.
A Note on Language
I call my penis my clit: penis formally and in the doctor's office, clit informally and in bed. I use "clit" because it's fun and makes me feel less dysphoric, and also because it accurately describes how my penis enjoys and responds to touch. "Clit" is good direction for my partners. I've had sex with penises and vulvas, dicks and clits, and in my experience clits tend to like different sorts of touch and play than dicks. I have a penis that is a clit. You can call your genitals whatever you want, and I hope you find the words that work for you.
I talk about "trans women" throughout but really this is about anyone with a penis who takes estrogen and/or testosterone-blocking hormones. Not all trans women take HRT, not everyone on counter-endogenous estrogen-based HRT is a woman. But "trans women, transfeminine folk, trans femmes, non-binary cuties, gender freaks and anyone else with a penis who takes estrogen and/or blockers" is, like my clit, a bit of a mouthful, and "woman" is, like my clit, a pretty cool political umbrella. I use "trans women" as an abbreviation for "trans women and fellow travellers", and I use "transfem" as a broad adjective for the same people. You can call your gender whatever you want, and I hope you find the words that work for you.
Hormones Changed My Orgasms and I Like It
I started hormone therapy in October 2018. I began with a very low dose (50µg estrogen patches) and gradually increasing to a medium dose (200 µg patches and then 3mg a day by gel). I was also on estrogen for about 18 months before I decided to take blockers. I wasn't sure at first if HRT was for me: I knew that I was transfeminine and that I was disconnected from my body, and I knew I wanted something, but I wasn't sure what it was. "Suck it and see" has been my approach to transition for a very long time, and also my approach to sex.
I got a lot of things from estrogen-only HRT: better mood, the ability to cry, tiny breast buds, skin so soft it barely registers as a surface, a sense that my body was actually my body. One thing I didn't expect was multiple orgasms. But I got them! A very industrious young man worked my prostate with his fist and my clit with his mouth and showed me that I could come multiple times in sequence. It was pretty amazing.
I say "come", but there was no actual ejaculate: my orgasms were dry after a year on HRT. (Listen, a woman with a penis who can come on your face is a rare and precious person and you must treasure her. Most of us go dry. Transfem ejaculation takes either a very lucky dice roll or some complex work with hormone cycling, but that's another zine.) This never bothered me, because another good thing happened: my orgasms got deeper, longer and stranger. There was no bang and release any more: instead I'd reach these long plateaus, and then shift up to an even higher plateau for a while, and up again, and up. My orgasms now sound a lot more like many cis women's orgasms. I wish there was proper research on hormones and orgasm response!
I Forgot to Get Hard and It Hurt
In May 2020 I started testosterone blockers (a three-monthly decapeptyl/triptorelin shot with the NHS) because I figured out that I wanted more of the physical changes from HRT, i.e. actual tits, and then things started to go wrong. And by "things" I mean my clit.
I didn't notice at first, because sometimes it's hard to notice when something isn't there. As soon as blockers nuked my testosterone to nearly nothing, I stopped getting spontaneous erections – the erections you sometimes get on waking, or quickly and randomly at just the first thought of sex, or for no reason at all. That wouldn't be a problem in itself, but something else was brewing.
I never stopped being able to get erections at all, although this does happen to some of us. I do still get aroused in sexual situations or when watching porn, especially when it's ethical trans-made porn that I pay the producers directly for. My erections do tend to come and go a bit during sex, and I'm not as long and hard as I used to be, losing around an inch in length and gaining softness and pliability. None of that bothers me either, because I'm not invested in having a big, rock-hard phallus. I'm a woman, I have a funny sort of clit, and it has great orgasms during exciting, inventive sex.
Except in summer 2020 I wasn't having sex because there was this whole global pandemic. I could no longer do casual hook-ups, and my sexual partners were mostly in other towns. Amid all the stress and trauma and mutual aid work of the pandemic, I stopped thinking about sex much. I probably went without having an erection for stretches of a month or more, and didn't notice what was happening.
(I don't want to say "estrogen kills your sex drive", because I think that is a bit of harmful myth created to deny transfem sexuality. My desire for sex has shifted a bit, and it tends to come more as a responsive heart-pull than a spontaneous body-pull, but I still want a lot of sex. Changing your hormones is likely to change how your sex drive operates, but my hunch is that losing all sex drive tends to come from psychosocial components as well. If your sex drive has plummeted and you don't want it to, you can consider switching up your hormone regime, which I'll discuss later.)
When I finally did get an erection, something was wrong. At first I put it to the back of my mind. I didn't want to think about it. But when I paid attention it was clear: when I got hard, it hurt. There was a sharp throb in the region of the corona of the glans (the bottom rim of the head part), and there would be shooting pains up the corpus cavernosum (the main shaft). That made me even less interested in getting hard. By November 2020, when I had started meeting with partners a bit more, every time I got hard it was agony. I felt excruciating pain whenever my clit was erect, and if I masturbated or had sex it would hurt for days afterwards, even when flaccid. Fuck!
And I wasn't even getting actual tits.
What the Fuck was Happening?
After about six months, I faced up to what was happening and started googling. Or, more accurately, searching on Reddit, the world's biggest ongoing repository of accessible trans healthcare information. That's where I learned that I wasn't alone and that this pain was a common (though not universal) issue. I also learned that there is absolutely no scientific research into why it happens, what causes it, and what to do about it, and that it doesn't appear in any major trans health guidelines, including WPATH's.
What there is is trans women's educated guesswork, drawing from basic knowledge of the body and from trans women's experience. Here's the working outline of what we, the collective trans women of Reddit, think is happening:
Counter-endogenous HRT tends to atrophy (shrink) the reproductive apparatus. This includes uterine and vaginal atrophy in people on testosterone, and testicular and prostate atrophy in people on estrogen, along with changes in penile tissue. I'm not certain whether the atrophy is caused by the reduction in dominant endogenous hormone (testosterone for testicles and estrogen for ovaries) or the presence of the exogenous hormone, partly because adding a counter-endogenous hormone suppresses gonadal hormones to some degree even without blockers. However, a similar effect can occur in cis women's menopause due to the reduction in estrogen production, which is suggestive. In any case, a decent supply of hormones from the gonads tends to keep your genitals happy, and without them your genital tissue can atrophy, or get drier, less elastic and more fragile.
It also seems to be the case that regular erections help keep the penis's erectile tissue and skin more elastic: a penis likes to be stretched regularly, and if it isn't stretched regularly it starts to get tight. This might be the biological function of spontaneous erections, though we start getting into weird essentialist territory there. This gives us the transsexual folk saying "use it or lose it". As with "estrogen kills your sex drive", I think "use it or lose it" is over-stating things and I prefer to emphasise change over loss, but there's a truth there too: get regular erections or the pain is likely to get worse.
What's actually causing the pain is unclear. Is it tightness in the erectile tissue, and/or in the foreskin if present? Is it micro-injuries caused by the thinner, more fragile tissue? Is it something else? Why do some girls get the pain and some don't? Why does it get better for some people and not others? Why do some of us get testicular pain instead or as well? Why is no-one researching any of this? The answer to the last question is, of course, transmisogyny.
Maintaining Through Pain
The basic treatment for penile pain that the collective wisdom of trans women prescribes is getting regular erections. The common community term for this is "maintenance". People usually advise once or twice a week. That doesn't have to mean masturbating, but rather whatever it is that makes you aroused. (It does tend to mean masturbating.)
I bought a subscription to CrashPad, told my partners what was going on, and set aside time to be with my clit a couple of times a week. I watched trans-made porn with trans women in it, had long cybersex sessions, and touched myself. It hurt. I masturbated and fucked through the pain. I learned later that that this aggressive treatment may have been a bad idea. It's possible that my approach caused more damage. I don't really know because, again, there is no scientific research and no medical expertise.
What I'd advise someone else now, with hindsight and the advice of sisters, is the same as for any pain recovery: try a little of the activity, be gentle with yourself, and when it hurts, stop. If it starts getting better, slowly and very carefully increase the activity. Maybe try just getting erect without masturbating, or using very light touch on yourself with a lot of lube. Don't rush for orgasm, and instead focus on pleasure in touch itself. These are techniques I learned later on and they made the process much more manageable, and maybe more effective.
At first getting erections still hurt a lot, but gradually I started being able to masturbate and have genital sex with less pain, and after about eight months I could usually masturbate with no pain, and sometimes have genital sex without pain. If I'm overly firm with myself in masturbation I can still feel discomfort, sometimes there's still discomfort during erections, and I haven't yet had penile penetrative sex without hurting my clit badly, causing a return to the awful days-of-pain-even-while flaccid, but I have had some joyous pain-free times with a focus on oral and digital sex. In general, now, if I'm gentle with my clit, it doesn't hurt, but if I'm rough then it can be bad.
I'm happy with that progress, but I want better. I don't want sex to feel fraught, and, while I don't know if I really want to top in penile penetrative sex, I would like to have the option, or at least to know if I have the option. I'm still looking for more answers.
The GIC Doesn't Know Shit
I'm in the UK where trans healthcare is governed by the psychiatric hellmouth of abuse and neglect known as the Gender Identity Clinic. In recent years there's been a lot of focus on the horrific problem of GIC waiting lists, with trans patients waiting 3-5 years from referral to first appointment. Less often understood is that the medical supervision you get when you're actually seen by the GIC is at best lacking and at worst actively harmful.
I've a lot more to say about that, but here's just one example: after four months of trying to get an appointment to talk about it, in May 2021 I saw my GIC doctor to ask for help with genital pain, and she said that they'd never heard of any trans women with that problem before. (The issue discussed daily in trans Reddit and regularly mentioned in trans memoir.) She did a basic examination (fumbled around with my clit) and couldn't find any problems. She didn't refer me to a urologist or an endocrinologist to find out more. She asked whether it could be a psychological trauma-related issue.
Then she gave me some emollient, a soap substitute used for people with eczema and psoriasis to support skin health, and hydrocortisone cream, used to reduce pain and swelling. It's possible these have actually helped, as my pain has got better, or it could just be the maintenance erections. I can't tell a difference between when I have consistently used them and when I haven't.
She also gave me lidocaine, a topical anaesthetic, and said I could use that when the pain was bad. She said she thought that maybe there was unspecificed nerve damage, that my body was sending pain signals even when there was nothing to trigger the pain, and so that numbing the pain might help my body relearn. I've tried masturbating with a lidocaine-numbed clit and it was awful: dissociated, dysphoric, miserable. When I've had that pain after sex I've tried putting lidocaine on, and honestly the numbness felt worse than the pain. It's like the numbness after you've been to the dentist, but in this intimate area that can trigger dysphoria. Horrible. Also, I think she's wrong, because I can describe exactly what activities trigger pain and what don't, and keeping going through the pain makes it worse, so I think it's more than phantom signals.
I have follow-up appointments with the GIC scheduled, and I'm going to keep pushing for urology and endocrinology appointments, but I don't have much hope. I'm in touch with other people with similar struggles, and one woman texted me saying, "I saw the GIC doctor and she said she'd only ever heard of one other patient with this problem". I replied, "That would be me."
Girls Get Peyronie's (But Not Me?)
Another place I looked for answers was Peyronie's forums. Peyronie's disease is a condition that affects penises: scar tissue forms around micro-injuries in the shaft of the penis, causing pain, abnormal curvature, erectile dysfunction, indentation, loss of girth and/or shortening. I wondered if I might have it, so I spent a lot of time looking at pictures of bent penises and asking questions about it.
I joined an old-style forum of the Peyronie's society, introduced myself, related my case history and asked for help. In return, I got a series of explicit messages detailing cis men's sexual interest in me, and then my introduction post got deleted by the moderators. I asked the moderators what happened and they pretended it didn't happen. I looked around the forums and found them to be an absolute hive of cis-het misogyny and anxiety. I have a lot of sympathy for men with painful dicks, because I know how intimately horrible genital pain can be, but lots of them were massively over-identifying with the phallus and weren't supporting each other to consider other ways of thinking that might help, and they were shit to me. I didn't go back.
One good thing happened, which is that another trans woman messaged me: her introduction post had also been deleted. Turns out those forums just aren't safe for us. We shared case histories, and while she definitely has Peyronie's her opinion was that I don't. I don't have any visible or tactile plaques, and while my erect penis has changed in shape and size, it doesn't seem to be in a Peyronie's-like way. Looking at photos of even mild cases, I agree.
I do have a hunch that a lot of trans women may have forms of Peyronie's, and that the pain we commonly experience may be related. But because researchers aren't interested and our doctors don't have a clue, it'll be a long time before we find out.
Guilt and Shame
I want to talk more about those difficult feelings. I have a lot of guilt, shame and self-hatred about my "broken clit". I have thoughts like "I've destroyed my sex life by ignoring my pain" and "I've given myself permanent injuries by being careless" and "covid stole my clit". I also got dysphoric thoughts like "if I was a real woman I wouldn't want a working penis" and "being obsessed with my clit must mean I'm a fake transsexual" and "terfs are right, I'm a gross freak".
I feel guilty about having a sore clit, and then ashamed that I care about having a sore clit. I wonder anxiously if I'm just obsessed with penetrative sex as a weird holdover from trying to be a man. I feel like I'm failing as a queer by not fully embracing the kind of sex I am already having.
All of that is bullshit. I have as much of a right to pursue a vibrant consensual sex life as anyone else. I'm not permanently broken, I just have a medical issue that makes some things harder. It's not my fault that I'm struggling, it's the fault of transphobic medicine. I wasn't failing to get better, the places I went for help were shit to me. There's nothing wrong with wanting to top in penetrative sex: it's just sex. Topping wouldn't make me a man any more than bottoming, which I love, makes me a woman: that association is what's cisheterosexist and misogynistic, not the desire. What is true is that genital pain is difficult, intimate, and has a strong capacity to trigger all of the self-hating and self-destructive thoughts that a transmisogynist society has put in my head.
That's what I tell myself these days, and it's all true. I still struggle to believe it, but writing it down helps to remind me. I am having good sex now, and I want to explore more sex and not worry about pain every time, and those are pretty average desires for anyone to have.
Biohacking a Better Clit
Alongside maintenance erections, there are a bunch of other remedies I've seen folk suggest for happier clits:
1. Adding progesterone to your HRT. This isn't commonly available on the NHS, but some doctors will preescribe it, and if they won't it's easily available and not too expensive to buy at hrt.cafe (get bioidentical micronised progesterone, it has fewer potential risks and seems to be more effective). The two main reasons people take progesterone are for increased sex drive and larger, rounder breasts; some people also report improved mood and sleep. There's little to no scientific research about whether progesterone actually works. I've gone on and off progesterone and it definitely makes me hornier, which makes it easier and more fun to do maintenance and have sex.
2. Using erectile dysfunction pills. If you can't get erect at all, taking tadafil (most commonly sold as cialis) or sildenafil (most commonly sold as viagra) might help. They might also give you bigger and harder erections, and having those might help with maintenance, or might just help you have the sex you want to have. Tadafil makes it easier to get an erection and lasts around 36 hours; sildenafil tends to give people like a 2-hour hard-on. Sildenafil is available on the NHS to cis men with erectile dysfunction, though trans women may face more obstacles; tadafil is currently only available privately. I've tried tadafil once and it didn't seem to do much for me. Next time a partner is interested in penetrative sex with my clit and I am too I'm going to try one or the other and see what happens, but this situation doesn't arise often for me!
3. Dropping blockers. If it's very low testosterone that's causing the pain, maybe allowing a little T back into your system might help. This was actually suggested to me by my GIC clinician. On blockers I have lower testosterone than a typical cis woman, and it's possible that a bit of T might help with other things, like mood and fatigue (which menopausal cis women also take it for). Increasing T can also decrease the effectiveness of E (e.g. slow tit growth), and might bring back things like facial hair growth and head hair loss. For the last year, though, starting around April 2021, I've been on high-dose estrogen via injectables sourced from Ukraine (solidarity to Lena during the war, hope you're still safe), and high estrogen can suppress testosterone by itself. As with everything else hormonal, results vary wildly from person to person, and while that injectable source was been reliable for years (it took a war to interrupt it) it is still completely DIY and has unknown risks. I can tell you that when I ditched NHS gel and went to high-dose injectable estradiol it finally started giving me tits. Anyway, I've been off blockers for a few months as I write this, and have been slowly titrating my estrogen down, but I haven't yet noticed a change.
4. Adding topical testosterone. Instead of working with unknown levels of gonadal testosterone production, another thing people try is applying testosterone directly to the genitals to promote genital tissue health. The analogous approach is absolutely standard for people taking counter-endogenous testosterone and menopausal cis women, who are frequently prescribed topical estrogen for vaginal and uterine atrophy, but topical testosterone is not standard for trans women and people taking counter-endogenous estrogen because, again, transmisogyny. There is one private doctor in the USA, Will Powers, who prescribes a testosterone cream. His patients, who include a lot of trans women in sex work, often report really good results and pain-free clits. In the UK, we're currently stuck with using very low doses of standard T-gel, which isn't as good because it has an alcohol base and so application is less confined to the genital tissue and more likely to penetrate the bloodstream. I tried a dab once and got a head rush that freaked me out so I haven't tried it again, but I know women who swear by it.
You'll notice that all these options are "I tried it and I'm not sure". I'm reporting that here so that you can do your own research and figure out what might work for you. Like when I began HRT, I tend to be quite cautious and do things bit-by-bit. If something ends up working well for me, I'll do a new edition of this zine.
From doing a lot of reading and Redditing about this, I think that most folk that get transfem genital pain – which is not every trans woman on HRT – manage to heal entirely from it, often just through maintenance. But there is a subset of us who live with pain all the time, and we need help.
How I Like to Fuck
I am pretty sexually omnivorous, which has been a great help in working out how to fuck with a painful clit. I have partners of many genders, I'm kinky, bi, switch and vers. So when penetrating with my clit isn't possible or desirable, or when genital sex hurts, I've been able to do lots of other things.
Since my clit got sore I've got way more into dominance and submission, and also into giving and receiving pain. What I love about both those types of sex is that I can have a wild and exciting time and the question of my genitals doesn't have to come into it. When I domme, I get to be thrilled by being wholly focussed on someone else's bodily experience. When I'm being beaten, I get to enjoy pain rather than being scared and ashamed of it. Actively exploring these kinds of sex with supportive and caring partners has been very good for me.
When I do do genital sex, I've learned to be really communicative and boundaried with my partners. I tell them we need lots of lube, and that they have to be gentle and careful. I ask them to try out different kinds of touch with their hands and mouths and I'll tell them what feels good and what doesn't. I've learned to stop when it stops feeling good.
In general, I like a lot of light and swirly touch around the head of my clit, and tend not to like activity focussed on the shaft, especially tight or vigorous movement. I like the feeling of being fully enveloped by someone's mouth, but I don't usually like vigorous bobbing or sucking. I can come just from someone flicking their tongue or dancing their fingers around my glans.
I would miss pounding someone's ass, cunt or mouth – the power play and energy of that was always fun – but I've found that I can enjoy railing someone as much with a fist, dildo or strap-on as with a penis, or more. The few times I've tried penetrating somone with my clit since the pain, I've had to go really slow and careful. I think the sensation was nice, but the pain, and thinking about the pain, made me dissociate, and the dissociation triggered dysphoria: I started panicking about feeling like a man, or being reminded of traumatic, dissociated sex as a man. When I explore that in future I'm going to have to be really careful.
All of this is also true for sex with myself. One of the things my clit pain has gifted me is the value of setting aside time to masturbate in an embodied and joyful way. If I treat maintenance as a boring job, I'm likely to wank quickly like pre-HRT me and hurt myself. If I put a hot film on a big screen, turn on the heating, get out the lube and play carefully with myself, I have a great time.
I still have pain and I still have questions, but the more I decentre genitals, orgasms and penile penetration from what sex is about, the happier I am. I think the more I can make genitals, orgasms and penile penetration "nice, but not a big deal", the happier my clit will be.
Trans Women Deserve Great Sex
It's the fact that no one knows for sure why my clit hurts. It's the way early vaginoplasty surgeons prioritised vaginal depth over women's pleasure. It's the way clitoroplasty came after vaginaplasty. It's how the NHS uses a "minimum viable dosage" approach to transfem HRT that leaves us fatigued and depressed. It's that testosterone is treated as "the strong hormone" we have to get rid of, prioritised over increasing our estrogen levels. It's that we can't get progesterone or injectables safely in the UK. It's that counselling unrelated to assessment isn't part of the GIC pathway. It's that there's no NHS psychological support for genital surgeries that have months'-long recovery periods. It's a culture that wants trans women to be either hypersexual tits-with-a-phallus or passive receipients of male action. It's when a girl posts "my genitals aren't working" to a trans support forum and all the women reply "that's normal" and "it's a relief to lose my sex drive" and "estrogen makes you not want sex" instead of "what do you want?" It's the stigma against trans women who top. It's the way I'm stared at when I go outside. It's an entire culture focussed on the normative cis-het penis with no interest in other kinds of sex, or in the many ways that women enjoy sex.
The medical institutions which govern transition are transmisogynist as fuck and they want to deny trans women sexual pleasure and agency. Trans women deserve the research, technologies, understanding and support to pursue happy, fulfilling, exploratory, pleasurable sex lives.
Power will most likely never give us that support. Instead, we'll write zines, share tips, post on forums, console each other, and fuck each other beautifully.
<3
Appendix: My Levels, for the Curious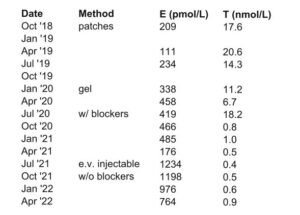 I'm the first to admit I've had quite a messy hormonal transition! These numbers may not make a lot of sense without context, but the basic story is: I started on a low dose of transdermal, titrated up to a medium dose, then switched to very high dose injectables, then removed blockers, then slowly began titrating my injectable dose down. I think I was on too low a dose for my body before injectables, but then on way too high a dose that carried unnecessary risks and also made my mood loopy. I'm reasonably happy with my dosages now. For anyone considering punking transition like this, please talk to a lot of different people with experience to get advice on risks and benefits! transfemscience.org has lots of resources, and also great dosage and hormone cycle calculators I use a lot.
Appendix: Trans Sex Resources I Like
Fucking Trans Women, by Mira Bellwether. A guide for having sex with and as a trans woman. Legendary. Introduced the world to muffing. The inspiration for this zine. http://fuckingtranswomen.org/
Napkin, by Carta Monir. Hot stories about Carta's sex life, with pictures. Includes information on biohacking her genitals and overcoming pain. The other inspiration for this zine. https://cartamonir.itch.io/napkin
Trans Sex Zine vol 1 & 2. Stories and advice on trans sexual health by and for trans people. https://transsexzine.com/
Trans Kink Zine, edited by Subira Joy, Finch Honeker and Darcy Leigh. Filthy stories, poems, essays and pictures about trans kink and against power. https://easterroadpress.com
Queer Sex, by Juno Roche. Interviews with trans people about their sex lives. Wild, passionate, exploratory, diverse. Includes Juno's own stories of overcoming sexual trauma and pain.
Trans Sex, by Lucie Fielding. An introduction for clinical practitioners for psychosocial issues around trans sex. A good overview on the mind stuff, doesn't include much biomedical stuff.
Girl Sex, by Alison Moon. Trans-inclusive guide for girls having sex with girls, with stories and many contribuitors.
CrashPad. Gets me wet. https://crashpadseries.com/
About the Author
Sophie Macdui is a trans woman in her mid-30s who lives in a small town in the Scottish Highlands. She's very private, but has askeds her publisher to pass on correspondence. She'd really like to hear from people who have advice for her, and is happy to hear about other women's experiences, although this zine has all the advice she can offer. You can reach her via the zine publishers as easterroadpress@gmail.com.